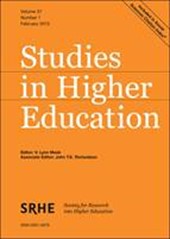 The Society for Research into Higher Education (SRHE) is seeking to recruit a new Associate Editor from 1st Jan 2023
Studies in Higher Education is an international journal published on behalf of the SRHE by Taylor & Francis Group. It has a global readership and expects authors to make their work interesting, relevant and intelligible to that readership.
The Associate Editor should have prior editorial experience, possess a range of subject expertise, understand different research approaches and have a strong quantitative research background. Knowledge of a number of different higher education systems globally would be an advantage.
A fee will be paid for the editorial services provided, given the substantial time commitment involved.  For further background and an overview of the journal see https://www.tandfonline.com/journals/cshe20 and further details on the SRHE are available from www.srhe.ac.uk
How to apply
Please send a summary CV (maximum 2 sides of A4 per individual not including references and publication record) and a covering letter giving a short rationale supporting the reasons for your interest in this position to the Society CEO/Director, Clare Loughlin-Chow at clare.loughlin-chow@srhe.ac.uk .
References and a publication record can be included in an Appendix to the above CV.
If you would like to have an informal discussion about this position and find out more about the role and the support available, please contact the journal's senior editor, Professor Maria Slowey via maria.slowey@dcu.ie
The closing date for expressions of interest in this position is 22nd November 2022.