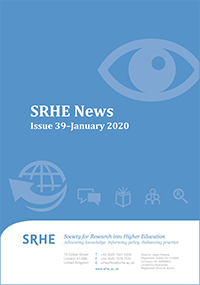 Published by: SRHE in house publication
Frequency: Four issues per year
SRHE Members – Free to members
SRHE Newsletter
Editor: Rob Cuthbert
Email: rob.cuthbert@uwe.ac.uk
This is the newsletter of SRHE. The SRHE Newsletter gives SRHE news, details of upcoming events and reports on recent activities.
SRHE Newsletter is a members only publication and can be downloaded from the Members Area. Members can access this by via 'My Account' or 'Login' (top right of screen).
For further enquiries, or to submit any articles of interest, please contact the editor.